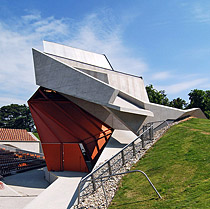 Open-air pavilion Grafenegg

The castle grounds of Grafenegg are almost 250 years old. Every period has left its traces, and this stylistic variety is one of the reasons for the park's appeal. The area, with the castle and moat at its centre, has a size of approx. 31 ha. The park and its dendrological collection are open year round and are accessible from two main entrances on the West and East side.
The open-air pavilion to be erected in the park is used as a stage during festival season in summer, and as an attraction for excursionists and flaneurs — similar to the gazebos in historical landscape gardens, which were designed as a destination or a stop-over on extended walks.
The pavilion is part of a relational field, recontextualizing the existing elements of the ensemble: the 'new' entrance, the riding school, the castle, the 'Black Gate' and the 'Große Senke' (lit. transl.: large depression). With great ease the pavilion inserts itself into the landscape and, through its topographical configuration, reinterprets formal elements of the landscape garden — the play with perspective and visual relations, with contraction and expansion, with enclosure and opening.
The 'Schneise' (loosely translated: an incision in the landscape) creates a vista linking the riding school to the 'Black Gate', and serves as an entrance to and a passage through the auditorium area. The staging of views and spatial sequences, the framing and hiding of points of attraction, often achieved by the meandering layout of paths in the traditional landscape garden, is a theme taken up by varying the elevation of the incision to achieve this effects. Coming from the castle, the visitor is enticed to proceed by the silhouette of the 'cloud tower', visible behind the artificial mound. Immersing himself into the incision, he tunnels through the hill and — after passing this deep narrow — enters the wide arena of the auditorium and the stage, the 'cloud tower' of the stage roof suspended above it.
The basic rule of acoustics for open-air stages, 'what you see is what you hear' serves as a cue to explore affinities between perspective and acoustic space. The topography of the existing depression - the 'Große Senke' - is amplified by modeling the terrain. Artificial hillocks are created by further excavating the depression and subsequently redistributing the soil at its perimeter. Clearly distinguished from the natural terrain by their geometry, stage and auditorium nonetheless merge fluidly with the topography of the site. The stage roof is designed as an autonomous, sculptured object. Suspended above the landscape on a level with the tree canopies, it is placed among the groups of trees as if it were one more of them. The shiny metal surface on the outside reflects the sky and the trees, turning into a cloud-tower.
the next ENTERprise - architects